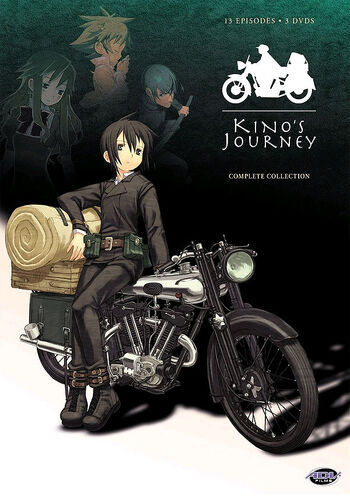 Welcome to the Kino's Journey Wiki
Edit
Welcome to the Kino's Journey Wiki. This wiki contains information about the characters and settings in Kino's Journey. Please fell free to join and make edits and/or add pages to this wiki.
About Kino's Journey
Edit
Destination is a state of mind. Kino is a traveler and a drifter. Kino is a dark figure perched atop an internal combustion companion learning the whims of mankind, one sin at a time. Kino is a witness of the whims of culture and the skewed effects of subtle circumstance. Kino searches for life's answers, life's questions, and the myriad of interpretations connected to them. A wielder of cutlery, firepower, and a piercing tongue, she is a silent survivor and a harbinger of endless luck. Kino continues to journey from country to country, without an end yet in sight. 
"Kino's Journey" or "Kino no Tabi" is a series of short stories about a traveler named Kino who travels from country to country as well as her experiences travelling to each country. Originally the series were solely based upon the light novels "Kino no Tabi; The Beautiful World" by Keiichi Sigsawa in the year 2000, but eventually expanded into a 13-episode anime series, two movies "In order to do Something -Life Goes On-" and "Country of Disease -For You-" and one OVA labeled episode 00. The latest light novel, volume 18, was released on October 2014 and as of January 2014 the light novel series are still ongoing. "Kino no Tabi" has a small dedicated cult-like fanbase population in various countries around the world, and is most popular in Japan where regional sales of light novels, art books, and media are the highest there. Despite its popularity, there are no plans for a second season of the anime and will instead continue as a light novel series.
The anime series as well as light novels do not follow a chronological order to the travels of Kino. 
Latest activity
Edit
Ad blocker interference detected!
Wikia is a free-to-use site that makes money from advertising. We have a modified experience for viewers using ad blockers

Wikia is not accessible if you've made further modifications. Remove the custom ad blocker rule(s) and the page will load as expected.