Overview Background Image Gallery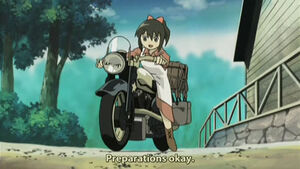 Hermes was found broken in an alley by the original Kino during his stay in the Land of Adults. The original Kino and the then eleven-year-old girl fixed him, although at the time Hermes could not talk to them. They decided to give him the name Hermes, after the original Kino's previous motorrad.
After the original Kino is killed, Kino uses Hermes to escape the Land of Adults. They keep riding until they collapse into a field filled with flowers. Hermes calls her Kino, believing that to be her name, and she decides to accept the new name to honor her savior's death.